This blog post contains all case information from May 1, 2020. For all background information prior to May 2020, please visit our first blog post here.
For all information from July 1, 2020, please visit Part Three of our blog series here.
Another death related to Lori has been revealed. Her sister Stacey Lynne Cox Cope died aged 31 in 1998. Some online articles say that her death was diabetes related.
On May 1, 2020, an email that Chad sent to Lori on October 30, 2018 was made public.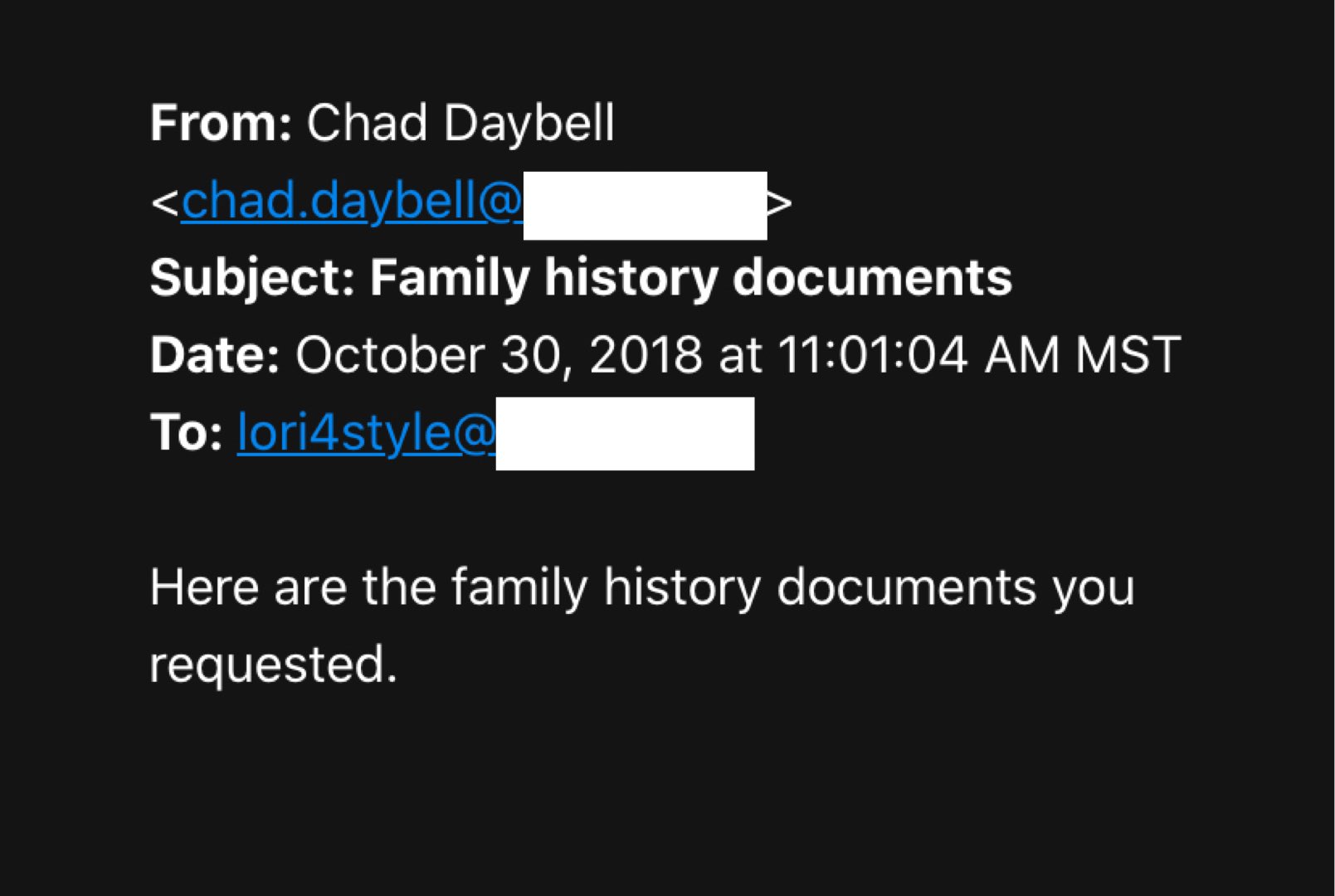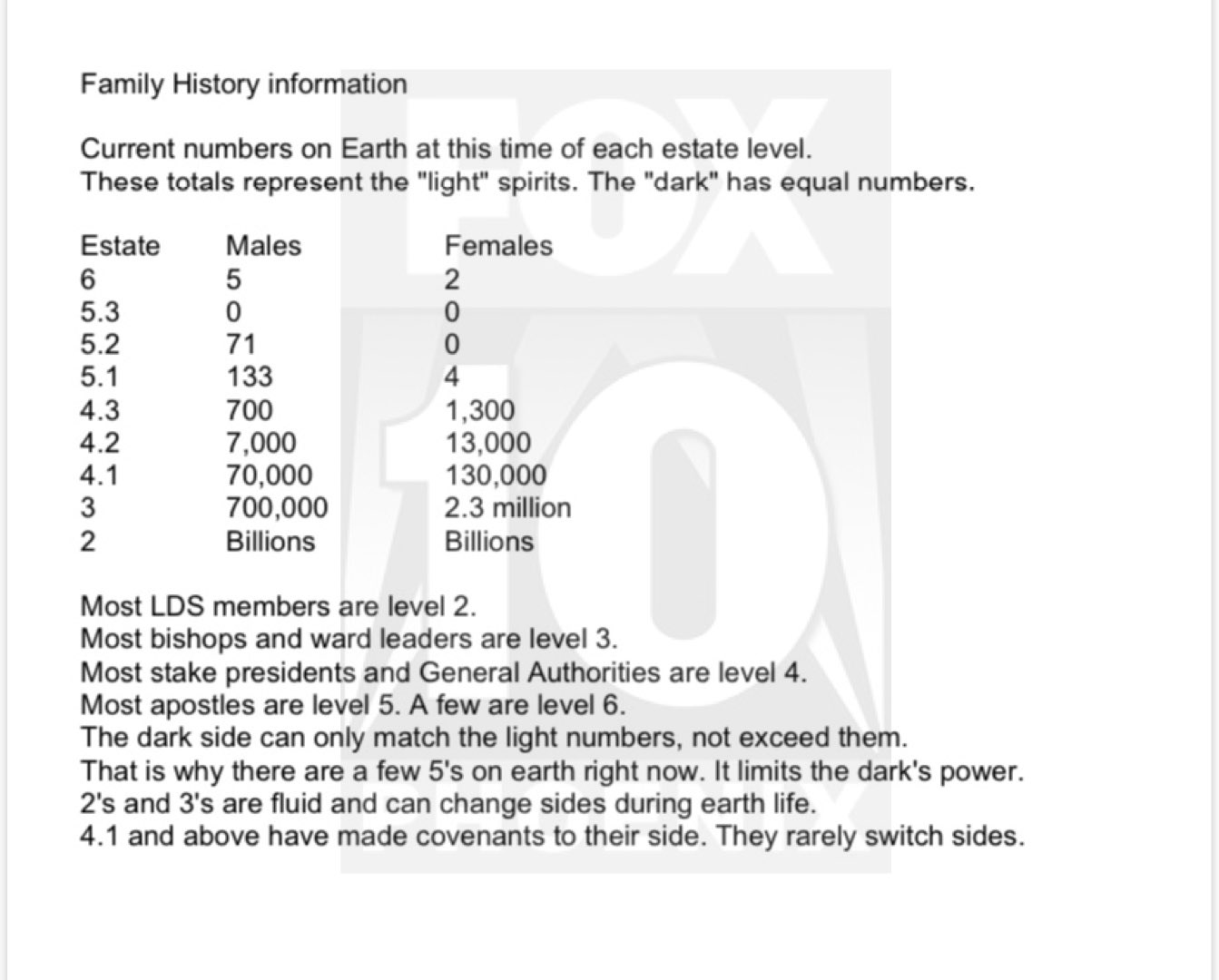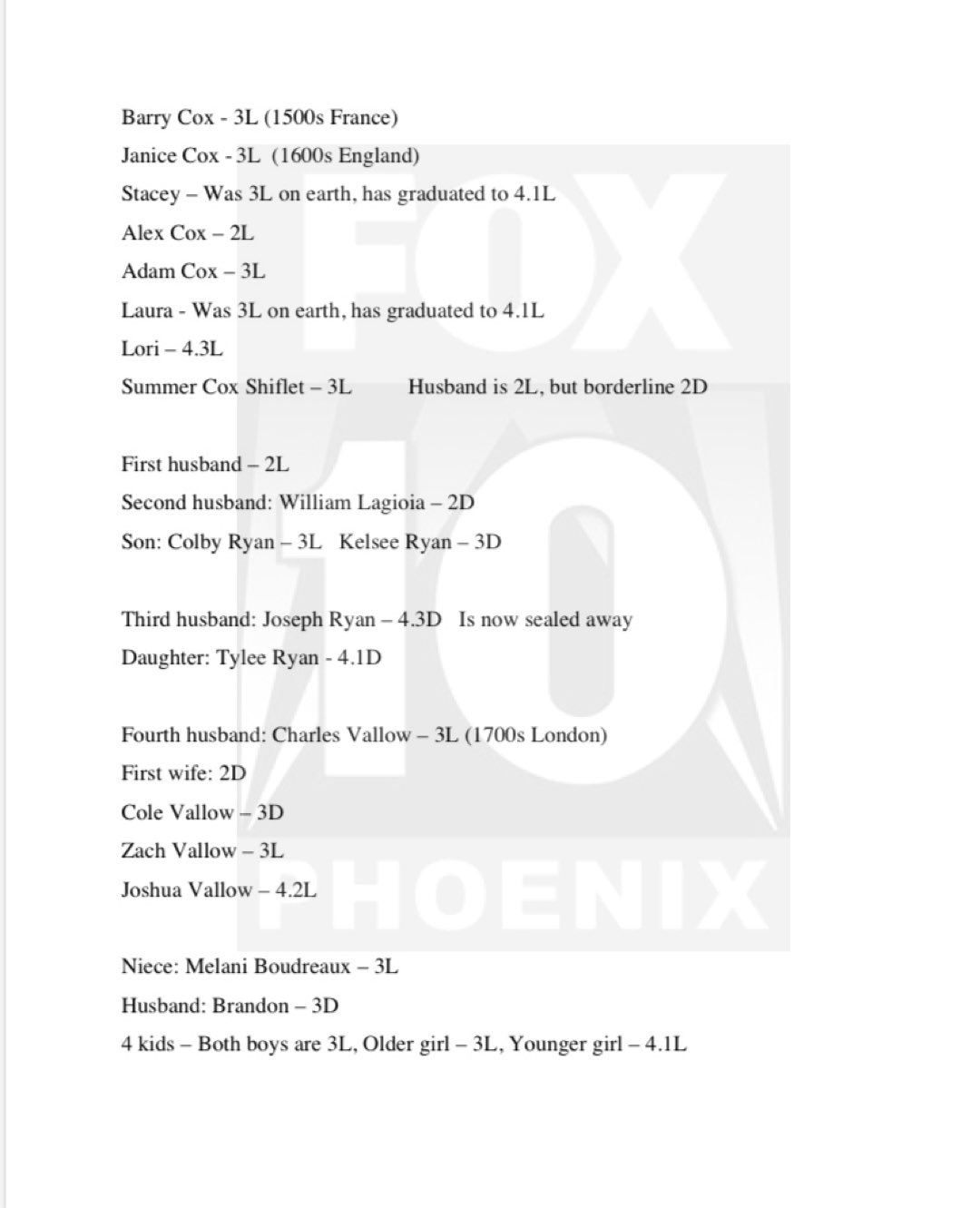 These documents are very hard to explain. Justin Lum from Fox10 did a great job –
The first attachment is some sort of rubric system explaining the estate levels of "light" and "dark" spirits. It says most LDS members are level 2, bishops and ward leaders are level 3, most stake presidents and general authorities are level 4, apostles at usually level 5 and a few are level 6. The document says anyone over 4.1 rarely switches sides.
Then a list of family members labeled by estate level followed by "L" or "D" (light or dark). The first section is Lori Vallow's parents Barry and Janice. Followed by her late sister Stacey who was rated a "3L" before she passed away. You can see Lori's brother Alex Cox is determined to be light, as well as her siblings Adam, Summer and her late sister Laura.
Even Lori's former husbands are on the document, including Joseph Ryan who died in 2018. He is a dark spirit that is "sealed away" according to Chad. Lori's own daughter Tylee Ryan is deemed a 4.1D nearly a year before she goes missing. JJ is on the light side as is Charles Vallow at the time. Lori's oldest son Colby is a 3L but not his wife Kelsee (3D).
Even the Boudreux family is on here, with Brandon labeled a dark spirit while his ex-wife Melani and their four kids are light.
I've been researching these documents for months, speaking to sources about how Chad allegedly came up with these beliefs. I'm told he does not believe in "reincarnation" but thinks someone can be "reborn" into another person until reaching the ultimate estate of level 6. The documents I've reported on so far come from emails in October 2018 and January 2019. There may very well be more attachments between Chad and Lori."
Rexburg PD Lieutenant Ron Ball has admitted that he listened to phone calls between Lori and a male – either in late March or early April 2020.
On May 1, Dateline aired a special on the Vallow case, titled 'What happened to the children?". You can watch here.
Lori appeared in court again on May 2, for her bond reduction hearing.
Her request was denied by the judge, and her bond remains set at $1M.
On May 7, Justin Lum revealed that he had exclusive documents that show Chad believes Lori had lived multiple lives and that they had been married in a past life. He sent the email on January 22, 2019 and the FBI has these attachments.
"I mean in terms of a special purpose, it is absolutely a doctrine enabling that they were meant to be together. I know that they were both married when they met each other initially and so it does kind of underlie the belief that they were meant to be with each other," said Cristina Rosetti who has a Ph.D. in Religius Studies and writes about Mormon fundamentalism.
On May 8, 2020 the Maricopa County Medical Examiner released information on Alex Cox's cause of death:
So, it seems like Alex died from 'natural causes'. A member in our True Crime Society facebook group said of narcan being found in Alex's system:
In May 2020, Melanie Pawlowski (Lori's niece), spoke with reporter Nate Eaton:
Justin Lum also released more information about Melani's custody battle:
More body cam footage that was captured prior to Charle's death has also been released.
"It's gotten really, really bad lately. She goes to temple everyday, speaks to Moroni and Jesus Christ." – Charles Vallow can be seen in the video, talking to GPD.
22 minutes of body cam footage showing officers arrive to the Vallow home on 1/31/19 just after midnight.
Another clip showing the final 11 minutes of the police visit was also made public. At this point Charles' belongings have been moved out of his home. He had to kick in the door in the garage to get in and alongside him is his friend Gabe Bonilla. Charles asks officers what he can do as his truck is also gone.
Justin Lum made a social media post about the footage that you can view here.
A theory about the Yellowstone 'Zone of Death' emerged in relation to the case. According to KSLTV.com:
A theory circulating on social media could shed light on why Tylee Ryan was last seen at Yellowstone National Park, and why some say a 50-square-mile portion on the Idaho side of the park is the perfect location to get away with murder.
Detectives said the last known sighting of Ryan, 17, was during a family day trip from Rexburg to Yellowstone National Park on Sept. 8, 2019.
According to detectives, phone records determine that Ryan visited the park along with her uncle Alex Cox, mother Lori Vallow, and younger brother JJ. Investigators have asked for the public's help in tracking down the group's whereabouts when they visited the park.
"The area in question is the 50-square-mile little rectangle in Idaho that is in Yellowstone Park," said Brian Kalt, professor of law at Michigan State University Law School. "The only sort of development in the Idaho portion is the Bechler Ranger Station."
Current law, according to Kalt, opens the door to the possibility of getting away with murder in this particular area.
"If a crime is committed there, then the jury has to be from the state — Idaho — and the district — District of Wyoming — where the crime was committed. So the jury would have to be from this little zone in the park, and nobody lives there," Kalt said.
Lori's friend Melanie Gibbs gave an interview to reporter Nate Eaton:
May 25, 2020 marked JJ Vallow's 8th birthday. Many family members made posts for him on their social media accounts:
Rexburg Police also released a letter on JJ's birthday:
A vigil was held on JJ's birthday, to honor him:
In early June 2020, Attorney Mark Means said that Madison Co prosecution has made a vague allegation without providing discovery. It is unknown at this time if Lori's team will raise alleged mental conditions before the trial.
On June 4, Justin Lum released some more information about Charles Vallow's jeep:
Locals who live near Chad's home have been putting up posters and t-shirts, to raise awareness of the case:
On June 9, 2020, Chad Daybell was arrested and human remains were found on his property.
The property had been searched once before. It's unknown why authorities decided to revisit and search again today.

According to the Daily Mail, Authorities had arrived at the home hours earlier to execute a search warrant. Aerial footage from the East Idaho News showed investigators digging up soil around what appeared to be a well in the back yard.
During the previous raid on January 3, authorities removed 43 items from the home and combed over several sections of the yard with metal detectors and rakes.
No new real information came from the press conference. There will be a hearing on June 10 at 11am. It does sound like there is only one set of remains, but there is also debate if they mentioned an ' autopsy' or 'autopsies' (plural). So, stay tuned!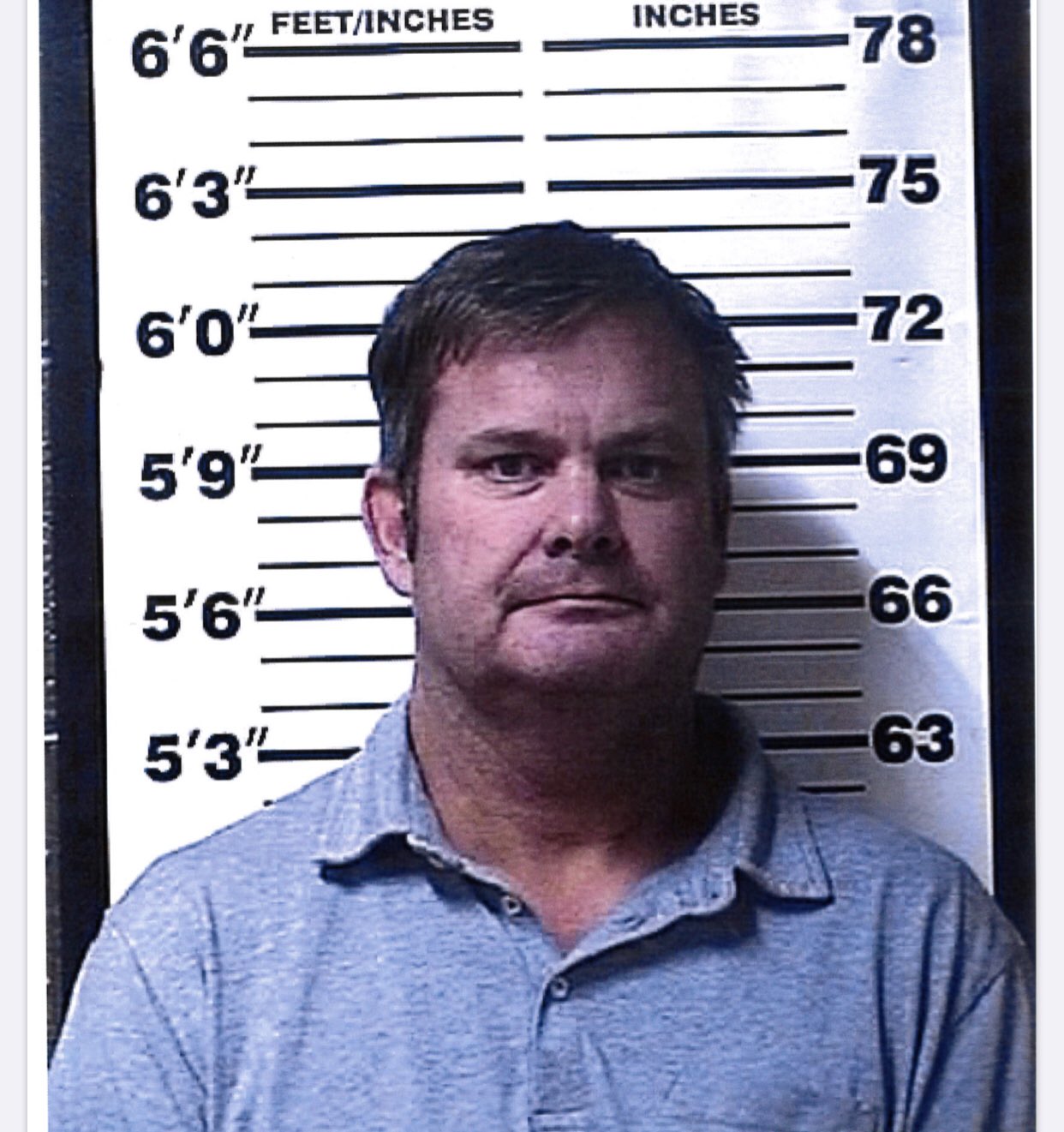 There are online rumors floating around about Lori's response to Chad's arrest. Comments said that she screamed and lost her mind when she found out about the search and discovery.
Multiple news agencies are reporting that the remains found belong to two different people:
The search at Chad's home has stopped for the day. It will resume on June 10.
JJ's grandparents released a statement:
On June 10, 2020, some of the remains found were identified as belonging to JJ:
It was also confirmed that there were TWO sets of remains found on Chad's property and that both remains belonged to children.
Chad appeared in court via Zoom from the Fremont County Jail wearing a black and white jumpsuit.
Judge Faren Eddins agreed with the prosecutions recommendation to set bail at $1 million even though the maximum penalty on each charge is five years in prison and a $10,000 fine.
"One of the primary reasons we are asking the bail to be set at that amount is these are human remains and although those remains have not yet been positively identified, we are aware that these remains are the remains of children," Wood said. "The concealment of one of the bodies is particularly egregious and should Mr. Daybell bail out, he has strong incentive to flee.
You can read more about Chad's court appearance here.
These documents outline Chad's arrest warrant:
You can read the Criminal Complaint against Chad here:
The FAA issued a 'No Fly Zone' notice for the area about the Daybell property: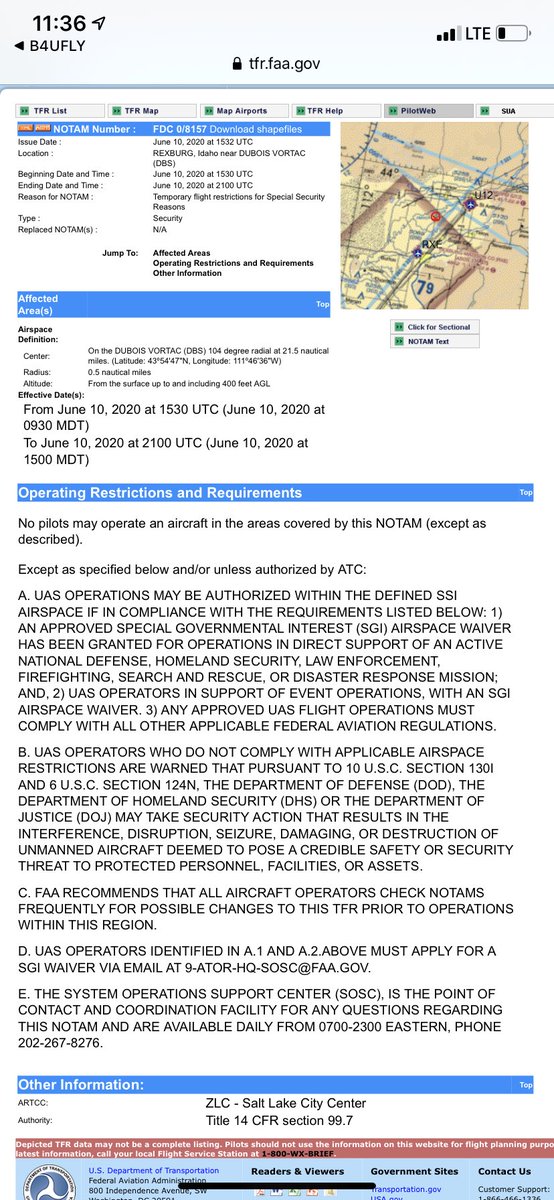 A few hours after JJ was announced as identified, the news came that the other remains belong to Tylee.
"Both children are no longer with us," Larry Woodcock told the Post Register.
According to the Post Register article, it seems Tylee and JJ died on different days – Tylee on September 8 and JJ on September 22.
Two charges were officially filed against Daybell on Wednesday morning. The charges involve the concealment of human remains "about to be produced, used and/or discovered as evidence in felony proceeding, inquiry and/or investigation authorized by law, with the intent to prevent it from being so produced, used and/or discovered. The concealment incidents were reported to have happened on Sept. 8 and Sept. 22, according to court documents.
Chad's brother Matt made a statement to Justin Lum:
The Cox family (including Melani) made the following statement:
To the countless people who have loved and come to love our angels, JJ and Tylee, we Thank You for the endless prayers and kind words of encouragement. You have truly uplifted and carried us through this nightmare. For that, we can never express the depth of our gratitude. We are humbled by the kindness of strangers and unity shown in hopes of finding the kids.
On June 9th our worst fears were confirmed with discovery of our beloved Tylee Ashlyn Ryan, 16 and Joshua Jaxon Vallow, 7. We are utterly devastated trying to comprehend how our children, full of brilliant light and jubilance for life, ended at the hands of those who were supposed to love and protect them. We look toward our Lord and Savior, Jesus Christ, to give us even the tiniest bit of relief from this unfathomable pain and ultimately find some amount of peace.
We have utmost faith in the judicial process and are confident justice will prevail. We want to express our immeasurable gratitude to the numerous law enforcement agencies and officers who tirelessly worked this case amongst all the others within this tangled web.
Like us, many want to bid final farewell to JJ and Tylee. All plans are pending since their bodies have not been released, nor an estimated date is given. Upon release, we plan public services to be held in Rexburg ID., Phoenix AZ., then Lake Charles, LA. Please be assured once memorial details are finalized a public statement will be released.
God bless all of you for the continued outpouring of love and comfort towards our families. We will never forget how blessed we are to live in a society of immense compassion especially during these challenging times.
We ask you to continue to respect our families' wishes of privacy during this difficult time.
Warmest regards,
The Ryan, Vallow-Woodcock and Boudreaux families
Larry and Kay Woodcock visited Chad's property to see for themselves where JJ was discovered:

We also got some more information from neighbours of Chad Daybell about strange things that had been happening over the past few months:
According to Fox 13, Matthew Price watched out his windows and from his yard as law enforcement spent two days digging in Chad's yard, and searching the property.
Matthew recognized the area where investigators brought in a backhoe to dig a deep hole, where it appears they recovered the children's remains.
Now that he thinks back, he is remembering some incidents that stand out in that exact spot.
"We noticed they were having a few bonfires that were kind of out of the ordinary," he explained. "They had a big bonfire last fall, and they had two or three big bonfires this spring."
He also spoke about the day Chad was arrested:
He saw a convoy of law enforcement coming down the road to serve a search warrant. They surrounded the home, he said, and made all of Chad's adult children leave the house. Chad also left, but Matthew said Chad sat in his car for hours.
Then suddenly, Matthew saw Chad try to leave.
"I saw his car take off down the road headed south towards Rexburg," Matthew said. "Just seconds later, the marked police cars had their lights and sirens, and floored it to go catch him."
Tammy Daybell's family have also released a statement:
On June 13, Rexburg Police confirmed officially that the remains belong to Tylee and JJ:
Tylee's brother Colby made a post on Instagram:
"I don't even know how to start this. But to my beautiful, Amazing, sweet angels. The only peace I have is knowing you are in paradise. I'm broken over this. To not see (your) beautiful faces, hear your voices. Or know that I can't hug you or see you kills me. I will never let anyone forget you. I have prayed that I could be with you again, and one day that will be true. I have more love for both of you than you could ever know. I miss you both. I love you both. This seems like a nightmare. It seems unreal. You were taken from all of us. You both touched so many lives. You impacted so many people. That will never go away. Just know I will carry you every day and everywhere I go. My daughter will always know how lucky she is to have you both watching over her. Tylee And Joshua. I will never be able to express my love for you. But know this, I'm still here for you. I will always wish I could have traded places with you. But I'll never let you be forgotten. With all of my love to you both. Forever you're in our hearts."
On June 15, Chad entered a not-guilty plea.
Melani Palowski released a very long statement – too little, too late?
More info came out about the upcoming trial preparations:
More body cam footage of Charles Vallow has been released. In the video, he speaks about Lori's declining mental health.
Sexual assault allegations against Chad were made public on June 19. According to Inside Edition:
Chad Daybell allegedly sexually assaulted a female author with whom he worked while they were in a private meeting in December 2018, an incident that was part of a pattern of inappropriate and sometimes "predatory" behavior toward women, multiple sources told Inside Edition Digital.
Julie Rowe is an author who published multiple books with Chad between 2014 and 2017. She said that during a meeting and energy healing session with him in Rexburg, Idaho in mid-December 2018, Chad forcibly kissed her, got on top of her and while they were clothed, rubbed his genitals against her body.
"I had no idea that he was going to do what he did to me, and I felt very betrayed," Rowe told Inside Edition Digital of the incident, which she has not spoken about publicly before. "I felt used, abused, manipulated. I felt betrayed. It was awful."
Rowe did not report her sexual assault allegations to police. Inside Edition Digital confirmed with two people that Rowe shared her account of what happened at the time she said it occurred. Those individuals were a member of her security team and Eric Smith, an Idaho-based author.
Chad Daybell's arrest affidavit was released on June 19. You can view the document here or the images are below. We have also included Lori's affidavit for comparison.
We came across this family tree online –
The FBI released a high resolution image of Alex Cox, Tylee and JJ, taken at Yellowstone National Park. This photo is thought have been taken just hours before Tylee was murdered.
This is the call made by Charles Vallow on 1/31/19 after Lori Vallow went to Gilbert PD, saying he stole her purse. Charles had met with police twice already that day trying to have his wife held for a mental health evaluation.
"She's lost her marbles."
Summer Cox Shiflet, Lori's sister released a statement on Facebook about the case. You can read it in its entirety here.
We have prayed for the truth to come to light, but we never thought it would look like this. Believe me when I say, this has looked very different from my perspective than what the public has seen. It's easy to jump on a bandwagon when you don't personally know all the people involved. When you have been up close and personal, you can't discount your own interactions, and just go by what everyone else says and thinks.
I know there are people waiting for me to admit I was wrong. If that's all you want to know… here it is… I was wrong. I am an extremely imperfect person that loves my family with all my heart, and I wanted to believe the best in them, and I held out hope for the best possible outcome. I have always said things truthfully as I understood them, and will continue to do that as I learn new information.
There was a glitch with a system and people recieved notification that Lori had been released from jail. This was thankfully false.
On June 24, we released a podcast episode about Chad's affidavit:
On June 25, more info about the autopsies of JJ and Tylee was released by East Idaho News –
Additional testing is underway on the bodies of Tylee Ryan and Joshua "JJ" Vallow after the Ada County Coroner's Office completed autopsies earlier this month.
"Outside and ancillary testing has been ordered and will take several weeks to return. Once all results are received, the forensic pathologist's reports will be provided to the Fremont County Coroner," Ada County Coroner Dotti Owens said in a news release.
On June 29, police returned to Chad's house to carry out further searches. This makes me wonder why they released the house so quickly back to family after the remains were initially found?
Also on that day, Lori was slapped with two new charges. She was charged with two felony counts of conspiracy to destroy, alter or conceal evidence.
On June 30, Justin Lum released more information about the state of the remains. JJ was identified by Brandon Boudreaux and Tylee's remains had been burned and dismembered.
You can read the full probable cause affidavit for Lori's charges here.
This is a copy of Lori's criminal complaint:
Chad also had additional charges laid on June 30.