Ventura County deputies received a call about a child alone in a boat in Lake Piru at around 6pm on July 7, 2020.
The boy had been adrift for three hours until someone on another boat alerted police after finding him sleeping.
According to KTLA, a search and rescue dive team searched the lake for a possible drowning victim as they were unable to locate the child's parents, officials said.
Sheriff's officials later said the missing person is "Glee" actress Naya Rivera, 33, and she is presumed to be dead.
There are varying reports about the situation. Some agencies are reporting that the child said his mother went for a swim and never came back. Naya's vehicle was found in a parking lot with her purse inside. It is being reported that her phone was found in the boat.
The search has been called off for the night and will begin again in the morning.
Footage of Naya arriving at the lake has been released:
The search for Naya went on for six long days. Her ex-husband Ryan Dorsey visited the lake during the search, as did Glee cast mates and her family.
On Monday July 13, Ventura County Sheriff's officials confirmed at an afternoon news conference that a body that search crews found floating in the north-east corner of Lake Piru earlier in the day was Naya.
Naya helped her son into the boat before sinking, police said.
"We know from speaking with her son that he and Naya swam in the lake together and at some point during their journey, it was during that time that her son described being helped into the boat by Naya, who boosted him onto the deck from behind," said Ventura County Sheriff Bill Ayub.
"He told investigators that he looked back and saw her disappear under the surface of the water."
Interestingly, Naya's body was discovered on July 13. Her Glee co-star Cory Monteith died on July 13, 2013 from a heroin overdose.
On July 14, the Ventura County Medical Examiner's Office released a preliminary report: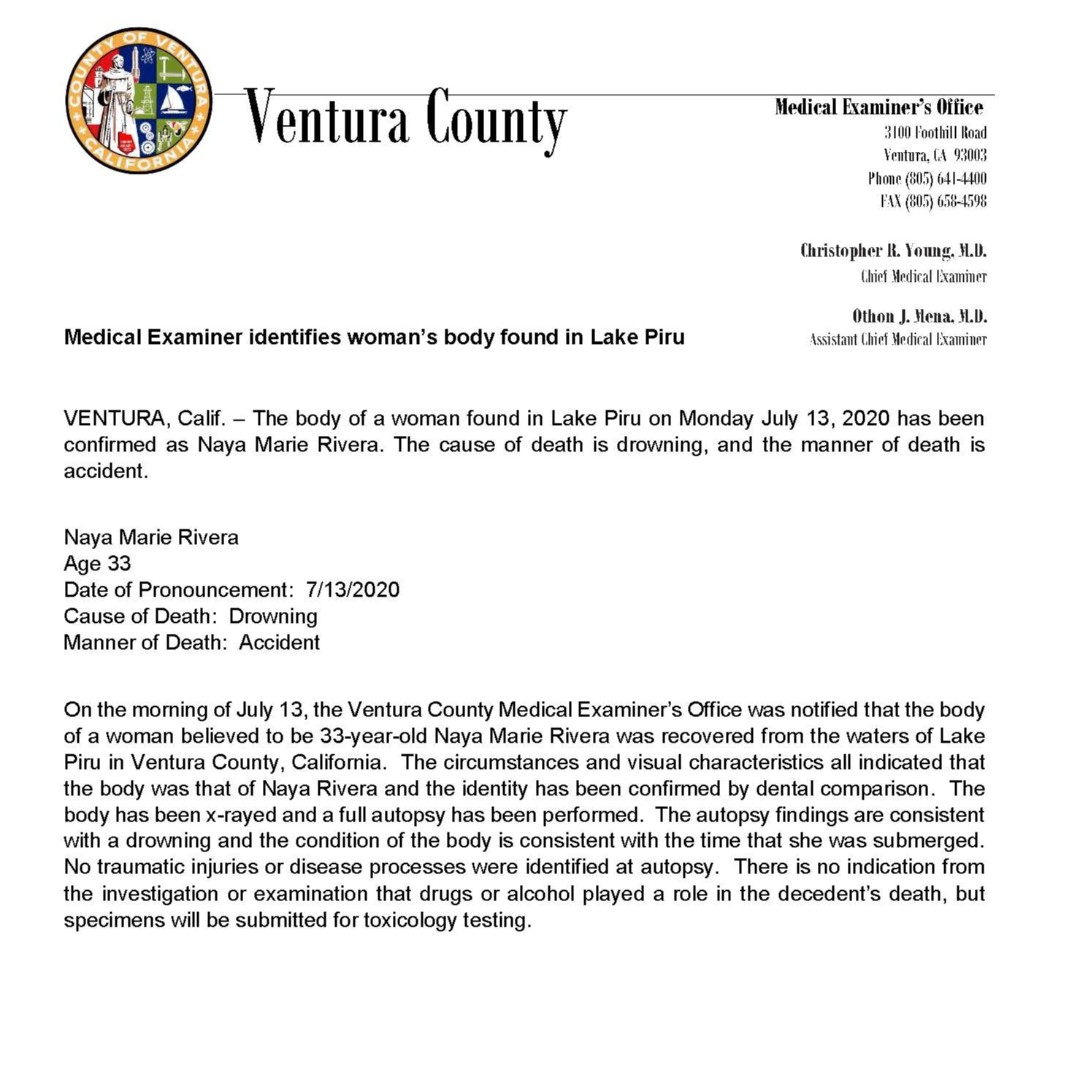 Rest in Peace, Naya.