This blog post contains background information on this case, and updates as far as April 30, 2020. For information from May 2020 – June 30, 2020 please visit our second blog post here.
Part Three of our blog series contains information from July 1, 2020. You can visit the blog here.
This is one of the strangest and most complicated cases we have ever come across. It involves a man called Chad Daybell, a woman named Lori Vallow, Lori's two missing kids – Tylee Ryan and JJ Vallow, cults, zombies (yes really!), doomsday prepping, travel across multiple states, many dead spouses and Lori believing that she is a God.
Chad Daybell met Tamara 'Tammy' Douglas in the late 1980s. The couple met while Tammy was in her freshman year at Brigham Young University. They were married when Tammy was 19 on March 9, 1990 in Manti, Utah. Chad was 21.
After Chad graduated from college, the family moved to Ogden, Utah. They had five children over the years – Garth, Emma, Seth, Leah and Mark. Tammy generally stayed at home to raise the kids. She did hold external jobs on and off over the years, including one role as an elementary school teacher.
The family moved back to Springville, Utah, where Tammy had been raised from the age of 13. In 2004, the couple started the Spring Creek Book Company. Online records show that Chad has published 27 books, all of which are based on religion and the end of days. Some of the books are titled:
I Know the Modern Prophets – 2005
The Renewed Earth blurb is – In the final days before the Second Coming of Christ, a showdown is looming in Jerusalem between the two apostles and the Coalition army as the Jews hurry to complete their holy temple. The plagues mentioned in the Book of Revelation continue to be poured out on the inhabitants of the world, but many keys events such as the resurrection of the righteous dead and the return of the City of Enoch await the Saints as they prepare to meet their King and usher in the Millennium. The Renewed Earth, the fifth and final novel in the Standing in Holy Places series, paints a vivid picture of exciting prophesied events that still must occur before the Second Coming. If you have an interest in what awaits the members of the LDS Church, this series should definitely be on your reading list!
Most of Chad's books seem to have been self-published through their business – Spring Creek Book Company.
Lori Cox was born 26 June 1973, in San Bernardino, CA. As far as we know, Lori has been married five times during the years. Her first marriage was in 1992, so she was 19. There are no public details of this marriage – not sure who the husband was or when they divorced.
Her second marriage was to William Lagioia. They married in 1995 (which means her first marriage lasted less than 3 years), and divorced in 1996. They had one child during this time – Colby.
In 2001, Lori married Joseph Ryan for her third marriage. They had one child during their marriage – Tylee Ryan. She was born September 24, 2002. They divorced in 2004.
Lori also competed in a Mrs. Texas pageant in 2004:
In 2006, Lori married her fourth husband, Charles Vallow. She took Tylee and Colby to the marriage with her. In 2014, the couple adopted a son – Joshua 'JJ' Vallow. Joshua was originally born to Charles' nephew. JJ's biological family were unable to raise him and this is when he was adopted. JJ had challenges such as autism and Lori and Charles were thought to have the means to help him. JJ is often referred to by the media as Charles' nephew.
On April 3, 2018, Tylee's father (Lori's third husband), Joseph Ryan died. According to a copy of the medical examiner's report, the cause of death was ruled as a heart attack. He was cremated, but little other information is available about his death. Court paperwork from 2011 shows that Lori and Joseph had a custody battle over Tylee.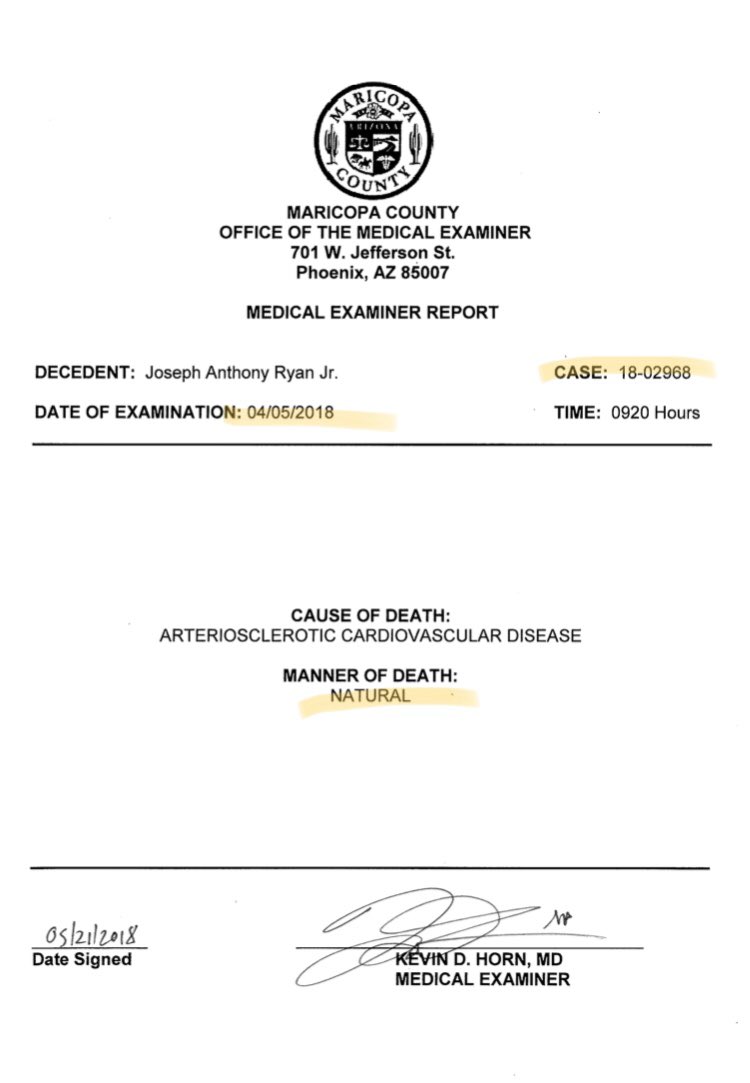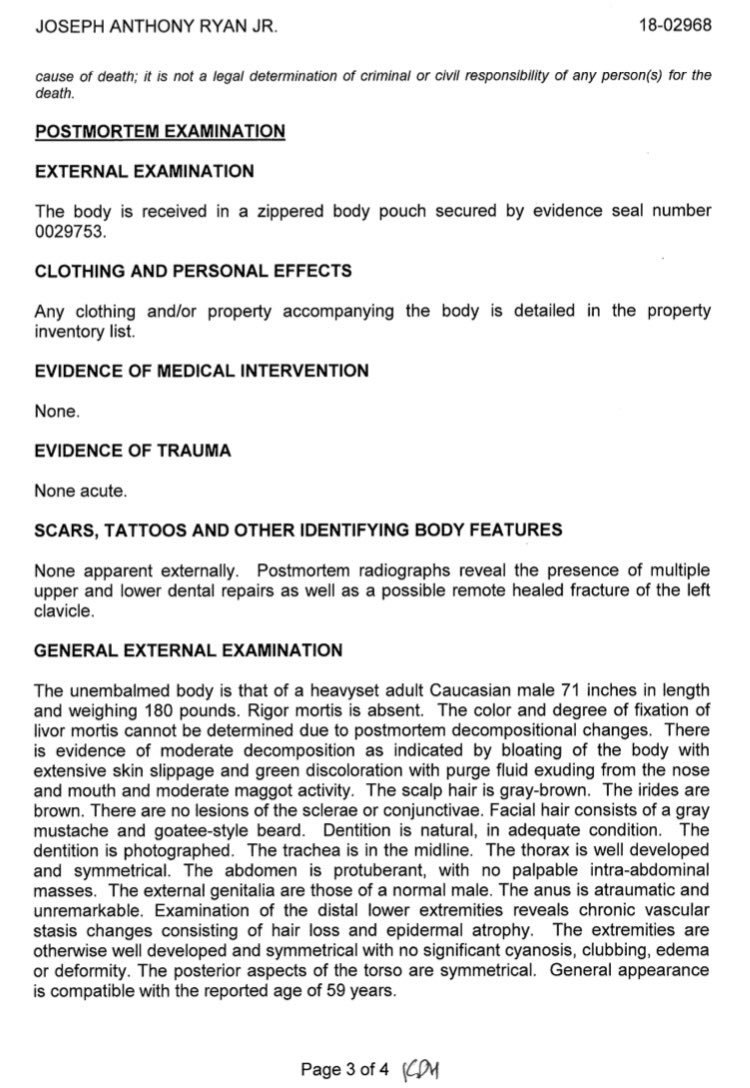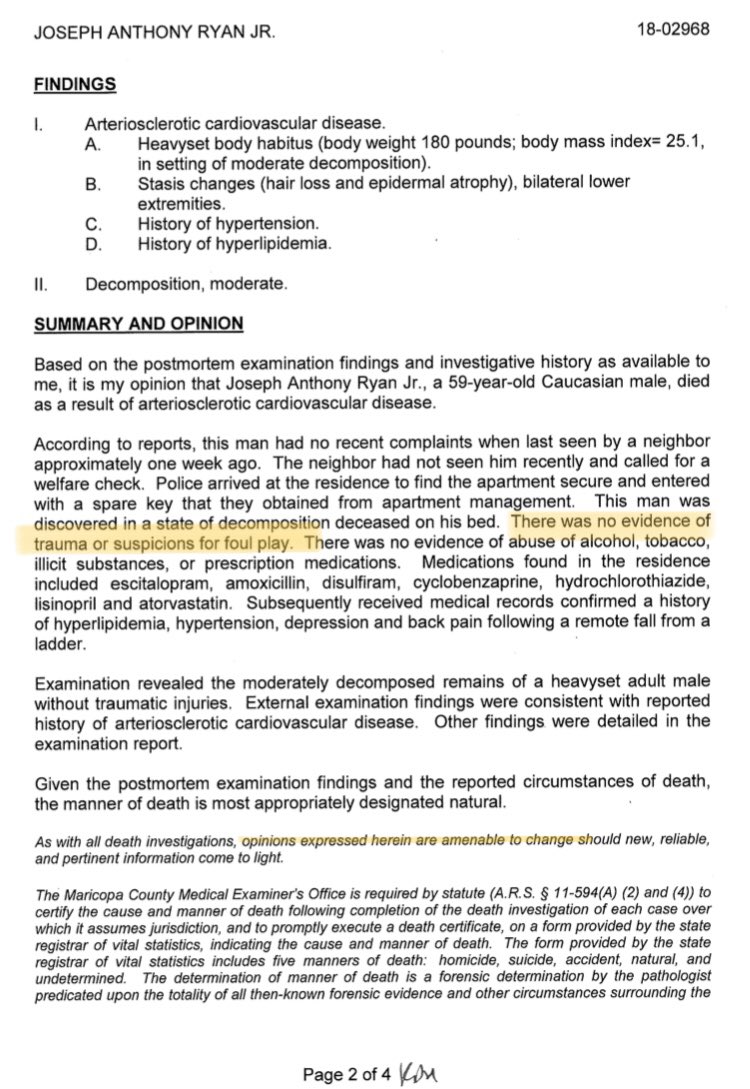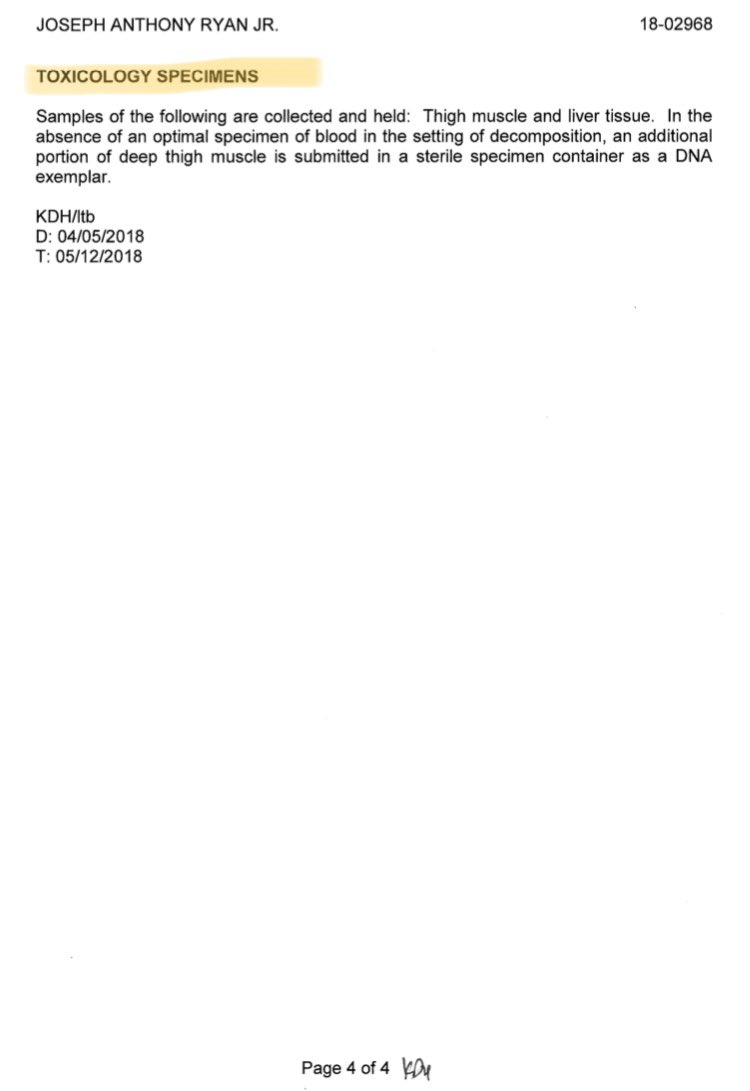 Before his death, Joseph told the court Lori would not let him see his daughter, despite their custody agreement. It's also public that during their custody battle, Lori's brother, Alex Cox, attacked Joseph with a stun gun and threatened to kill him. Alex was convicted of Aggravated Assault due to this incident.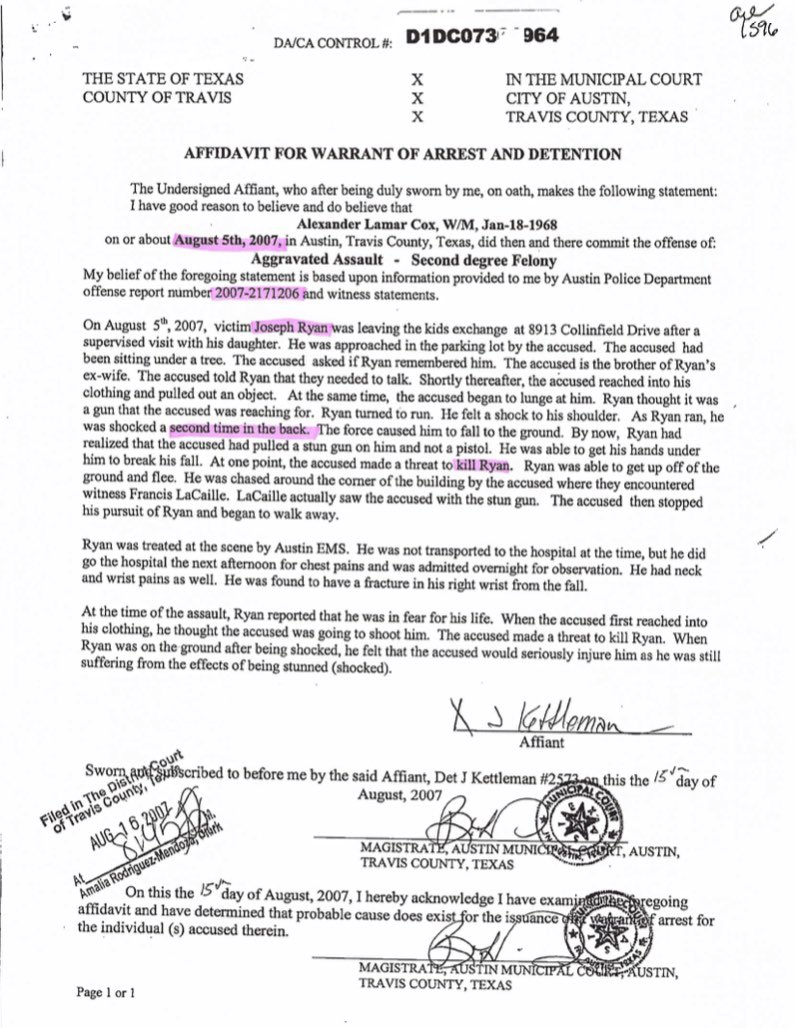 December 2018 was the first time that Lori has been tied to Chad publicly. They were linked on Preparing a People Podcast Network's "Time to Warrior Up." They discussed doomsday and their theories about the end of the world. The podcast has since cut ties with the couple.
In February 2019, Charles Vallow filed for divorce from Lori and applied for sole custody of JJ. In court documents, it's noted that Lori told Charles she is a "translated being who cannot taste death sent by god to lead the 144,000 into the Millennium".
You can see the documents below – courtesy of KTVB
Lori is referred to in the documents as 'Mother' – "Mother believes that she is receiving spiritual revelations and visions to help her gather and prepare those chosen to live in the New Jerusalem after the Great War as prophesied in the Book of Revelations".
Charles says that Lori threatened him, telling him she was a God preparing for Christ's second coming in July 2020, and if he got in her way, she would murder him. Charles got an Order of Protection against Lori during this time.
The documents also show Charles trying to get help for Lori, but she refused because they would discover that she's a "translated being".
Charles allegedly filed a petition with Community Bridges Healthcare for a 72-hour hold and evaluation, according to the documents. The police were called to bring Lori in for treatment.
Documents also show that in an email from Enterprise Rent-A-Car to Charles, 2,000 points were transferred out of Charles rewards account. Charles was worried that Lori planned to use the points to leave Arizona with JJ.
Charles also claimed that Lori would destroy him financially.
"He told me like 'oh, Lori took, like, a large sum of money out of our joint bank account, and basically just took all his money," said Charles' son from another marriage.
Charles reportedly provided his attorney with a list of transactions from the Vallows' business account, claiming that Lori transferred $10,000 into their personal account before moving the money into an unknown account in January 2019. She then allegedly transferred $25,000 from the business account to the joint account, and then from the joint account to the same unknown account.
The amount of money transferred totalled $35,000
Charles said he asked Lori to return it all, but claims she ignored him, and when he tried to stop the transfers, the bank claimed that Lori was the signatory, and the payment couldn't be stopped.
During divorce proceedings, Lori disappeared in February 2019 for nearly two months, leaving the children with others. Nobody knows where she went or where she stayed during this time.
Charles eventually stopped the divorce proceedings and he said he wanted to make their marriage work.
In June 2019, Lori's niece, Melani Boudreaux, demanded a divorce from her husband, Brandon Boudreaux. Brandon claims his then-wife affiliated herself with similar beliefs as her aunt and had joined "a cult." Brandon was shocked at Melani's demand for a divorce as he thought their marriage was fine.
During this time, Charles took Lori off his $1 million life insurance policy, He added his sister (who is the grandmother of his adopted son JJ), Kay Woodcock, as the sole beneficiary.
On June 29, Charles Vallow become suspicious that Lori was up to no good. Chad Daybell was sent an email from Charles Vallow – he was invited to stay with Lori and Charles. Except, Charles never sent that email. It was from someone impersonating him – Lori?
Charles discovered the emails and sent an email to Adam Cox, another of Lori's brothers, looking for an explanation.
On July 11, 2019, Charles Vallow was shot and killed by Alex Cox, Lori's brother This was less than 6 months after he started, and eventually stopped the divorce proceedings. The shooting happened when Charles arrived at the family home to take JJ to school – it is assumed that the couple as no longer living together, although they were apparently working on their marriage. The police report states that there was a fight, and Tylee went to her room to get a bat. Charles allegedly took the bat from Tylee and attacked Alex.
"I got in a fight with my brother-in-law. and I shot him in self-defense," Alex told 911.
"I turned around, and he hit me in the back of the head with the bat, so I went to my room and got my gun," Alex said on police body camera footage. In the body camera footage, the home was nearly empty. Alex told officers he was only visiting.
You can see the bodycam footage here – be warned that Charles' dead body is only partially censored:
Alex was never charged in relation to Charles' death.
On the day that Charles died, Lori was captured on police body camera footage. She can be seen even laughing and apologizing to her neighbors about the police presence in the neighborhood.
36 hours after Charles died, Lori finally got around to informing his family that he had died. She told his sons the news via text message:
Lori did send Steve a package of Charles' alleged belongings:
"My dad had a collection of watches, very fancy watches. He wore nice watches for years and years so I thought she was going to send me some of them," Steve says. "The package arrived and inside were two cheap Timex watches you'd find at CVS. Anything that was worth money, we didn't get. I'm assuming she sold everything else."
Just days after Charles died, Lori called his insurance company and asked after his $1m life insurance policy. She was told that Charles had changed his beneficiary and that she would not receive any money. After this, Lori sent Kay Woodcock (the new beneficiary) a message – "It was a photo of the 'change of beneficiary' form that she must have gone digging for," Woodcock says. "It named me as the sole beneficiary and she wrote, 'Five kids and no money and his sister gets everything
On July 22, 2019, Lori sent Dog Training Elite in Phoenix an email about finding a new family for JJ's service dog, Baily, due to a "change in life circumstances." The company picked up the dog on Aug. 30.
Lori moved Tylee and JJ to Rexburg, Idaho at the end of August. Her niece Melani also moved with them.
Lori enrolled JJ in the Kennedy Elementary School in Rexburg on September 3. The final class he attended there was on September 23. Lori unenrolled him and told the principal that she was going to homeschool him. Tylee was not enrolled in school in Rexburg as she graduated early.
JJ was spotted on a neighbor's Ring doorbell camera on September 17.
On September 18, Lori contacted a nanny from care.com and asked her to help care for JJ. The nanny has been quoted as saying: "She (Lori) explained to me how they recently moved here from Arizona. Her husband had just died of a heart attack and how JJ doesn't quite understand the situation."
She also said "Her (Lori's) daughter also lives in Rexburg and is going to college. She said her daughter doesn't like to babysit JJ without being paid so she wanted me (the nanny) to work for her. Occasionally her daughter would come visit for dinner or to do laundry, but she never said she lived there with them. It appeared only JJ and Lori lived there.
On September 19, the nanny went to the family home to watch JJ. She said of the experience: "She (Lori) mentioned how if she got home later to give JJ his medicine right before bed because it makes him tired fast. She joked about how she liked that because some days when he was extra tough for her to handle, she would give him his meds and have him go to bed early to take a break. Then her brother Alex came over and they left. JJ was upset about her leaving."

When the nanny messaged Lori on September 24 about working with JJ again, the nanny said "she responded to me that JJ was with his grandparents for a month and that she was in Hawaii. She said in about a month, when they come back, I can work again. Well, once that month passed, I texted her again around Halloween time asking if I could work. There was no response."
September 22/23 was the last confirmed public sighting of JJ.
Rexburg Police have since confirmed that Tylee never attended BYU Idaho, which is where Lori claimed she was going.
On October 1, Lori rented a 10×10 storage unit in Rexburg. She visited the unit 9 times in October and once in November. She was often accompanied by a man, thought to be her brother Alex. Alex visited the unit once alone.
On October 2, Brandon, Melani's husband, said he was shot at and the bullet missed his head by inches. The alleged shooter was driving a jeep that was registered to Charles Vallow – who was dead.
On October 9, Tammy Daybell called 911 and said a masked man had shot her with a paintball gun. She made a Facebook post about the experience and said she had no idea why she had been targeted.
On October 19, 2019, Chad's wife of more than 30 years, Tammy Daybell passed away. According to her obituary, she died 'peacefully in her sleep'.
It's now been 5 months since Tammy died and her autopsy results have not yet been released. Fremont County Sheriff Len Humphries has said that when the results are available, they will be sent directly to his office.
At the time of Tammy's death, the coroner decided that it looked like her death was natural or not suspicious, and as such, decided there was no reason to do an autopsy.
Since then, and due to the craziness of this case, her death has been ruled suspicious and the Fremont County Sheriff's Office requested her body be exhumed for an autopsy by the Utah Medical Examiner. At the time of her death, Tammy had a $430k life insurance policy against her name.
On October 25, Tylee's friends said they received a text from her phone – ""hi. miss you guys too …luv ya."
On November 5, 2019, Chad Daybell married Lori Vallow. This was TWO weeks after Tammy died. It is believed the couple married in Hawaii before they returned to Rexburg. Chad told people over the next few weeks that Lori had no dependent children. Lori also told people during this time that Tylee had been deceased for years.
On November 8, Kay Woodcock (Charles' sister) was setting up a printer that she inherited from him after his death. Somehow, when she hooked up the printer to a computer, she came across a bunch of orders that were made on Charles Amazon account – and they were made after his death.
"I don't know how me connecting his printer has to do with that but somehow it connected, I don't know," Kay explained. "After I poked around for a little while, I saw things were being ordered from Amazon and I thought, 'Well, that's not right' because you know, he's dead."
All of the items were shipped to Lori's new Rexburg home.
By this point, Kay and her husband Larry were already having trouble getting ahold of J.J. and Tylee. After seeing Lori's Amazon orders, they requested police to do a welfare check on the children, which would be executed later in November.
Kay's husband Larry said, "It was very interesting, to say the least, and I feel like this is the pivot point which everything broke loose and was tied together."
Kay discovered that Lori purchased a $35 malachite gemstone ring on Oct. 2. The browser history also showed she searched for "beach wedding dress" and white slacks and a shirt for her then-soon-to-be husband, Chad Daybell.
Another quote from Kay: "At that point, I was like, 'Wait a minute, whoa! They're getting married!' They were looking at men's extra-large clothing. Charles? It wasn't for him. It was men's, men's tennis shoes, things for her, a new yellow bathing suit for her, swim trunks for a man, extra-large, all of this was right there for me to look at."
If the timing of the ring purchase has you confused, you're not the only one! Lori had purchased a ring to marry Chad, BEFORE HIS WIFE TAMMY HAD EVEN DIED!
Kay has said that the last purchase for one of the children from the Amazon account was made in July 2019. Her husband Larry said "One of the things I looked at is not one item being searched for had anything to do with Tylee or J.J.,"
In December 2019, the Rexburg Police Department gave this statement about the case. It relates to happenings in November 2019, so we are including it at this point in the blog:
On December 1, 2019, Lori and Chad boarded an American Airlines flight to Lihue, Hawaii on the the island of Kauai. JJ and Tylee were not on the flight.
On December 11, Tammy Daybell's remains were exhumed and an autopsy was performed.
"We did [the exhumation] as confidential as we could," said Rod Oldroyd, Springville City administrative services manager.
Employees with the city's parks department arrived at the Evergreen Cemetery at 6 a.m. that Wednesday to prepare for the exhumation.
"Many other people were here that had to be here — witnesses, county attorneys, the sheriff from Idaho, sheriff from Utah, coroners, coroners' assistants, funeral director — all of that had to be done," Oldroyd said.
Witnesses showed up by 6:30 a.m. and the exhumation began. By 2:30 p.m., Daybell's body was back underground, Oldroyd said.
Her autopsy results are still not publicly available.
On December 12, Alex Cox, Lori's infamous brother, died in Gilbert, Arizona. Police are still investigating his death, but he was found unresponsive in the bathroom of a home he was sharing with a woman who he had married 12 days prior.
25-year-old Joseph Lopez found Cox passed out in a home in Gilbert, and called 911.
In the 911 call, Lopez told dispatchers that Cox is his mother's partner, but doesn't personally know him. Lopez said Cox was found in a bathroom, passed out in his own excreta.
Later, Lopez's mother arrived and started doing CPS. In all, the 911 call lasted for about seven minutes before Gilbert Police arrived.
A toxicology test was conducted and the results have not yet been returned.
It's interesting to note that Alex Cox died ONE day after Tammy Daybell was exhumed.
You can listen to the 911 call regarding Alex's death here:
On December 21, Lori and Chad were officially named as people of interest in the disappearances of Tylee and JJ.
The Rexburg Police Department released a second statement on December 30:
The Rexburg Police Department and the Madison County, Idaho Prosecutor's Office want to thank everyone who has worked with us to find Joshua Vallow and Tylee Ryan since our press release on December 20th.
The search for Joshua and Tylee is ongoing. We appreciate everyone who has brought attention to this situation by sharing information with our offices and on social media. We are very grateful for the help of the FBI and their resources. Finally, we are grateful for all the media outlets who have shared press releases and stories relating to these missing children. We continue to welcome any information regarding these children's whereabouts from informed citizens, investigative journalism, or any other source.
Since we first received a missing child report on November 26th, our number one priority has been finding Joshua and Tylee. We have taken every step available to us, including executing multiple search warrants, interviewing multiple sources, and running down every lead we have found. We strongly believe that Joshua and Tylee's lives are in danger. We are aware that in the weeks after Tammy Daybell's death, Lori Vallow and Chad Daybell told witnesses that Lori's daughter had died a year before the death of her father, which is untrue. Around that same time Chad told another witness that Lori had no minor children.
Many people have inquired as to why we have not filed charges yet in this case. Our primary concern at this point is simply locating Joshua and Tylee and charging decisions will be made in due course based upon the evidence available. If we find that harm was done to these children within our jurisdiction, we will prosecute whoever caused that harm.
As stated in our previous press release, Lori Vallow, the adopted mother of Joshua and biological mother of Tylee, has completely refused to assist this investigation. We know that the children are not with Lori and Chad Daybell and we also have information indicating that Lori knows either the location of the children or what has happened to them. Despite having this knowledge, she has refused to work with law enforcement to help us resolve this matter. It is astonishing that rather than work with law enforcement to help us locate her own children, Lori Vallow has chosen instead to leave the state with her new husband.
We publicly call on Lori Vallow/Daybell and Chad Daybell to do the right thing and come forward with the information they have about the location and welfare of Joshua and Tylee. This entire investigation could have been avoided if Lori and Chad had simply been honest with law enforcement. We further continue to ask that anyone with any information regarding the location or welfare of Joshua and Tylee share that information with law enforcement.
On January 25, 2020, Hawaii police served Lori with a court order demanding she turn over Tylee and JJ within 5 days. That deadline came and went and nothing happened.
Nothing happened to Lori at that point – search warrants were executed and the condo Chad and Lori were renting at Kauai Beach Resort was searched, along with their rented SUV.
Officers took possession birth records of Tylee and JJ, Tylee's bank card, two iPads, one belonging to JJ, and the other logged in to JJ's school programs, and JJ's school records. It was learned that Tylee's bank card had been used after the last known sighting of her in September. Police then revealed that there were no signs that the kids had ever been to Hawaii since Chad and Lori arrived. The second bedroom of the rented condo appeared empty, with no signs that anyone had lived in there.
In February, police released images of items that were found inside the storage locker that Lori had rented and then abandoned in Rexburg:
Self Storage Plus also released a statement about Lori's case –
On Thursday February 20, after failing to produce the children, Lori was finally taken into custody at 2:30 pm in Princeville Hawaii. She was held at the Kauaii jail on a Madison County, Idaho warrant pending extradition. The five charges were:
2 felony counts of desertion of a child
3 misdemeanors – resisting and obstructing an officer, solicitation of a crime, and contempt. The contempt charge likely stems from Lori ignoring the court order demanding she turn over the children.
On Friday February 21, a Hawaii judge set her bail at 5 million dollars and scheduled her extradition hearing for March 2. Until the day of her hearing, it was thought Lori would fight extradition.
At Lori's extradition hearing, her local counsel invoked her Fifth Amendment right, stipulating to the judge that Lori did not want any of the deputies involved in her transport to question her without her attorneys present. The judge noted that once outside of her jurisdiction, there was little she could do. The attorney responded that he just wanted it on record so her attorneys in Idaho could suppress any self-incriminating statements made during the extradition.
Bails bondsmen were interviewed for a story on Lori and many noted that securing her bond would be "bad for business", both publicity and risk wise. The one that noted she'd be bad for the face of their business secured the bond for Casey Anthony.
On March 4, Lori was extradited back to Idaho.
Before Chad left Hawaii to return to Idaho in support of Lori, he was seen making a sizable donation to Goodwill, dropping off the donation in an SUV that was not the one searched by police in January. When a witness contacted the police, she was asked if anything donated were items for children. Chad had dropped off in the bins where other donations were also dumped so it was impossible to know what donations were actually his.
On Friday March 6, Lori attended her first hearing in Idaho- her arraignment. Lori wore pink handcuffs and red lipstick as she heard the charges against her, and her attorneys requested a lower bail in the amount of $10,000. The DA argued that bail should remain 5 million, labeling her a flight risk and citing her multiple flights corroborating that – when Charles Vallow was killed, Lori fled Arizona in the middle of the night, leaving numerous brand-new possessions belonging to the children on the sidewalk for anyone to take. When Idaho police made contact regarding her children, she and Chad immediately left for Hawaii. Bond was reduced to $1 million dollars, and stipulations of bond were made – if Lori was able to make bond, an ankle monitor would be required and she would not be able to travel beyond the 3 neighboring counties in Idaho.
On Friday March 13, there was a telephonic hearing where both parties requested an Extension of Time for the preliminary hearing [Note: the preliminary hearing is where the DA will need to prove evidence substantiates the felony charges before the case will proceed from its current location in magistrate court and move to district court] and the Magistrate granted the request, moving the date from March 18 and 19 to May 7 and 8. Given the Corona pandemic, it is likely that the prelim will again be extended. Two of Lori's attorneys noted that they would be withdrawing from the case – Brian Webb and Edwina Elcox, leaving Mark Means as her sole attorney of record. Means also requested that the magistrate judge recuse himself, the reason for the request was not listed. Magistrate granted that request, removing himself from the case.
According to a probable cause affidavit that has been released, Lori asked a friend Melanie Gibb to lie and say JJ was staying with her in Arizona. Melanie confessed in late November 2019, that JJ was not with her and had not been there for several months. Melanie told police that when Lori and Chad both asked her to lie for them on separate multiple occasions. She outright refused to help them.
Melani, Lori's niece and thought to be part of their cult, is now cooperating with the FBI and has turned over her computer to them.
It has also since emerged that in 2019, while both their respective spouses were still alive, Chad sent Lori an email which detailed seven missions they had to accomplish before the end of the world.
In March 2020, the FBI requested assistance from anyone who had been at Yellowstone National Park on September 8, 2019. Investigators said the last known image of 17-year old Tylee Ryan was taken on a family trip to the park that day.
The agency also released images of a white Ford pickup truck the family was believed to be traveling in and asked to talk with anyone who saw it.
On March 24 , 2020, an email was leaked from a police detective.
The email said that police are confident they are getting closer to indicting Lori for Charles' death.
Brandon Boudreaux, Melani's ex-husband has recently filed child custody documents with a court in Arizona.
In the filing, Melani allegedly told her current husband Ian Pawlowski that she "had been told by Chad and Lori that her children had been possessed and had become zombies."
"She shared concerns that she's been told Brandon needed to die and that may indicate that Tylee and JJ needed to die as well," NBC reports.
Pawlowski allegedly said he tried to keep an open mind about his wife's beliefs in teleportation and "dark and light portals," according to NBC.
"The ideas seemed harmless at first, and she sounded pretty certain of some of them. She talked about how she'd learned some of these things in the temple and others from Chad and Lori," the East Idaho News reports.
Lori Vallow's next scheduled court dates are May 7 and 8, 2020. This will likely change due to the Covid-19 pandemic situation.
On April 7, 2020, Lori's new attorney Mark Means filed a motion for discovery. He has requested police interviews, audio and video recordings, and cell phone data. He also requested the autopsy and toxicology reports for Lori's previous two husbands, her brother, and Tammy Daybell.
On April 9, 2020 a letter from the Idaho Attorney General was made public. The letter states that Lori AND Chad are under investigation for Conspiracy, Attempted Murder and Murder.
It has been reported that Lori's motion to get bail reduced again will be heard in court on April 17, 2020.
On April 14, the date for Lori's bail reduction hearing was moved: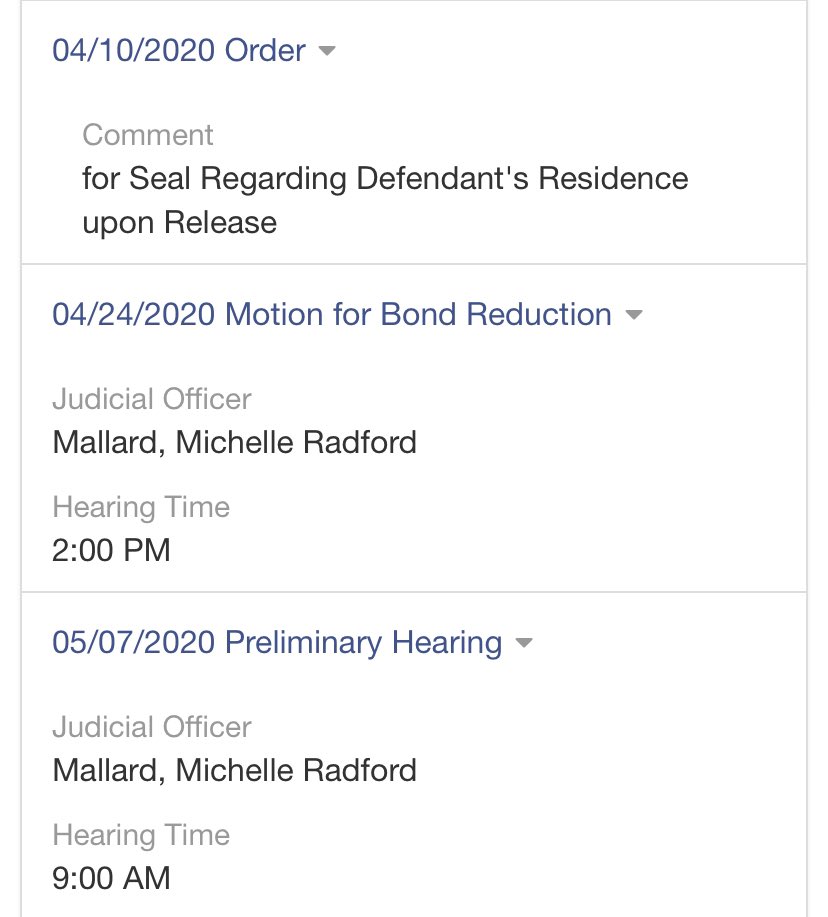 Justin Lum of Fox10 Phoenix has done an amazing job on the Vallow case.
On April 16, Lori's attorney filed with the Idaho Attorney General. He has asked that they produce all records regarding the investigation into Chad and Lori for conspiracy, attempted murder or murder. He also wants communications include blogs, podcasts, voicemails, texts, and he requested Tammy's autopsy.
Documents are courtesy of Justin Lum.
Mark Means also requested info from Southwest Airlines and Chase Bank. He specifically asked for information about Charles' financial records.
Information was also requested from US Bank.
A subpoena was also sent to Google. They have been asked to produce all documents, communications and emails connected to Charles Vallow and his email address. Means has requested the entirety of his inbox, sent, spam, drafts, etc from 1/1/16-present.
These documents are courtesy of Justin Lum: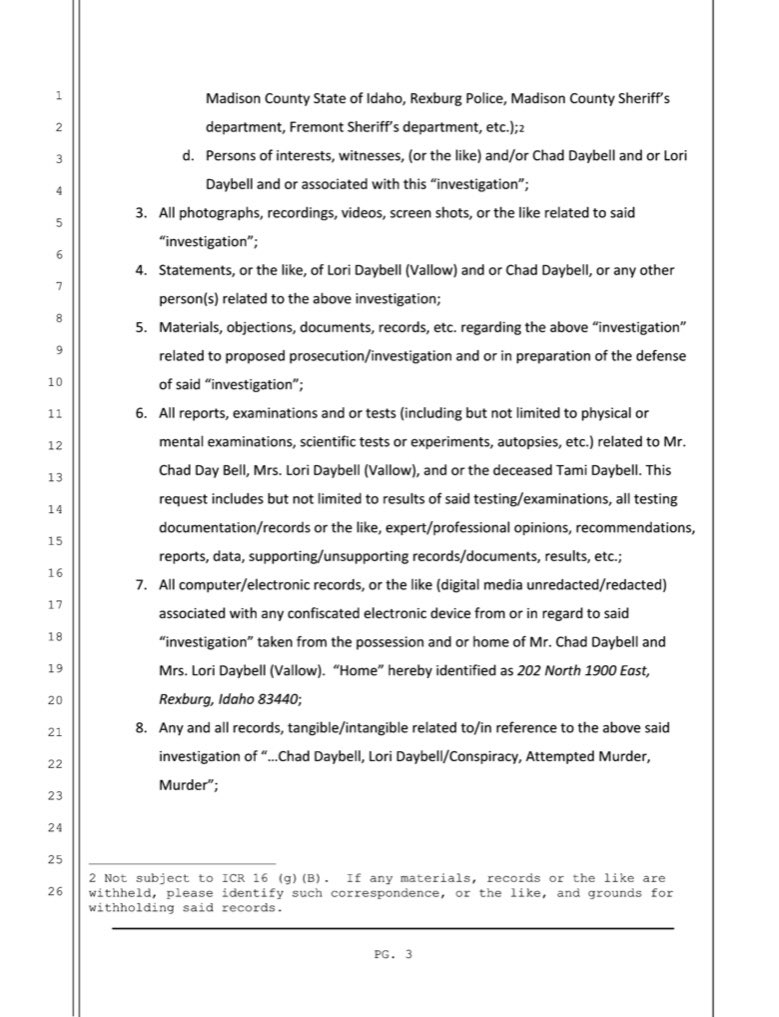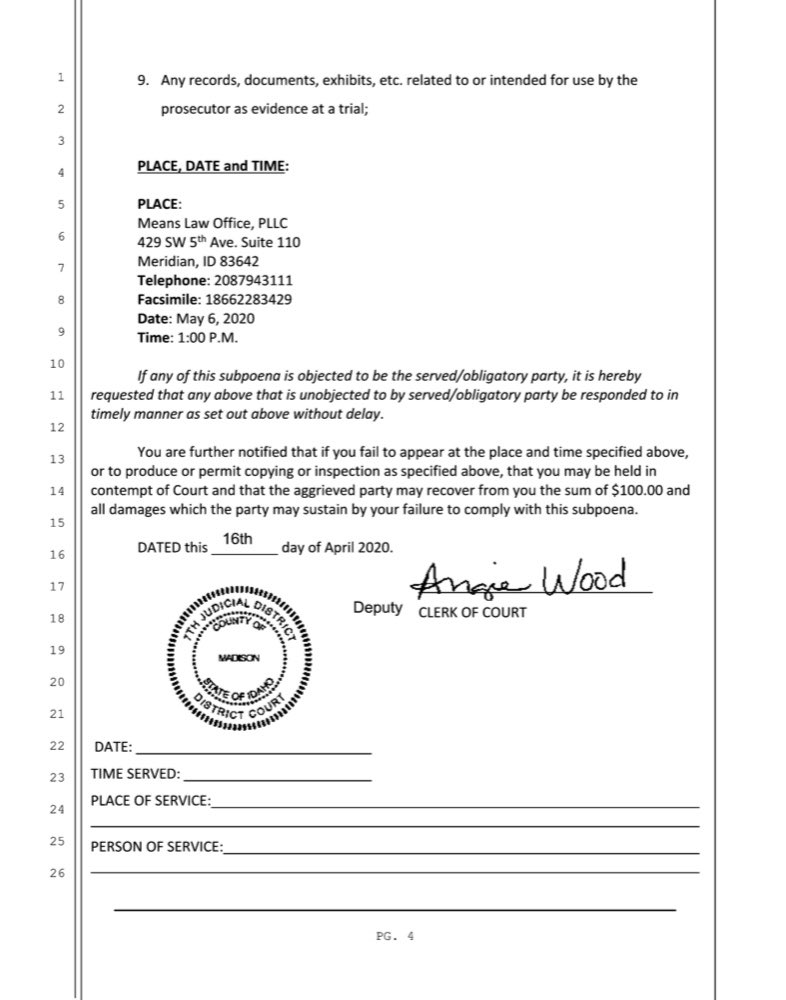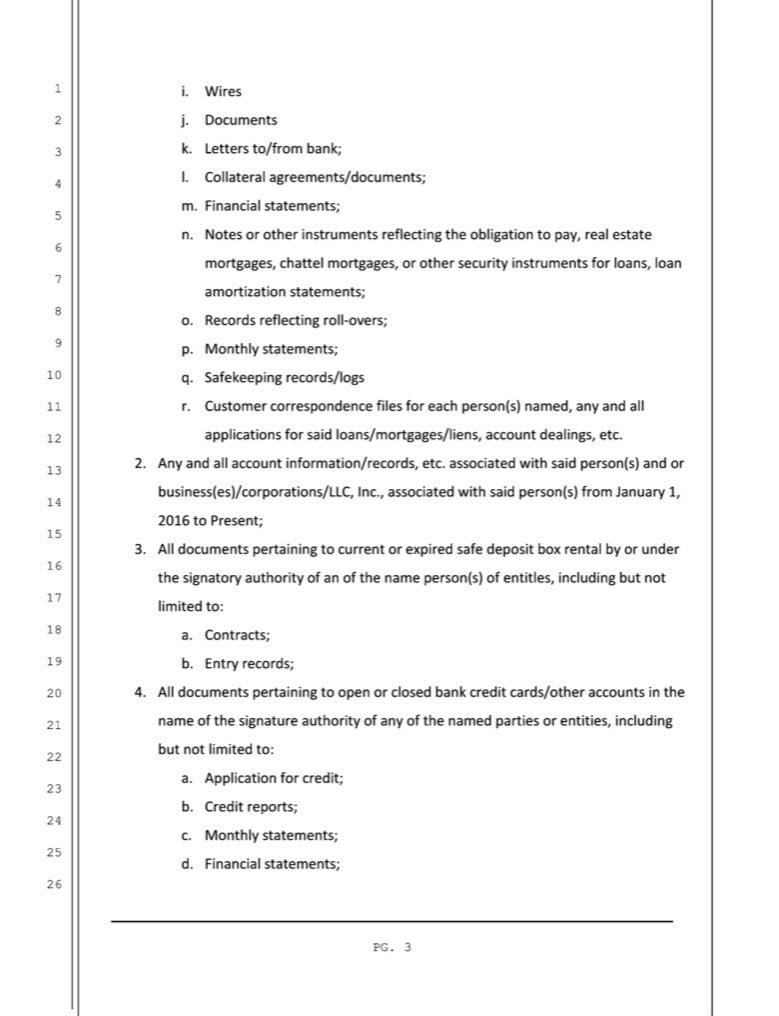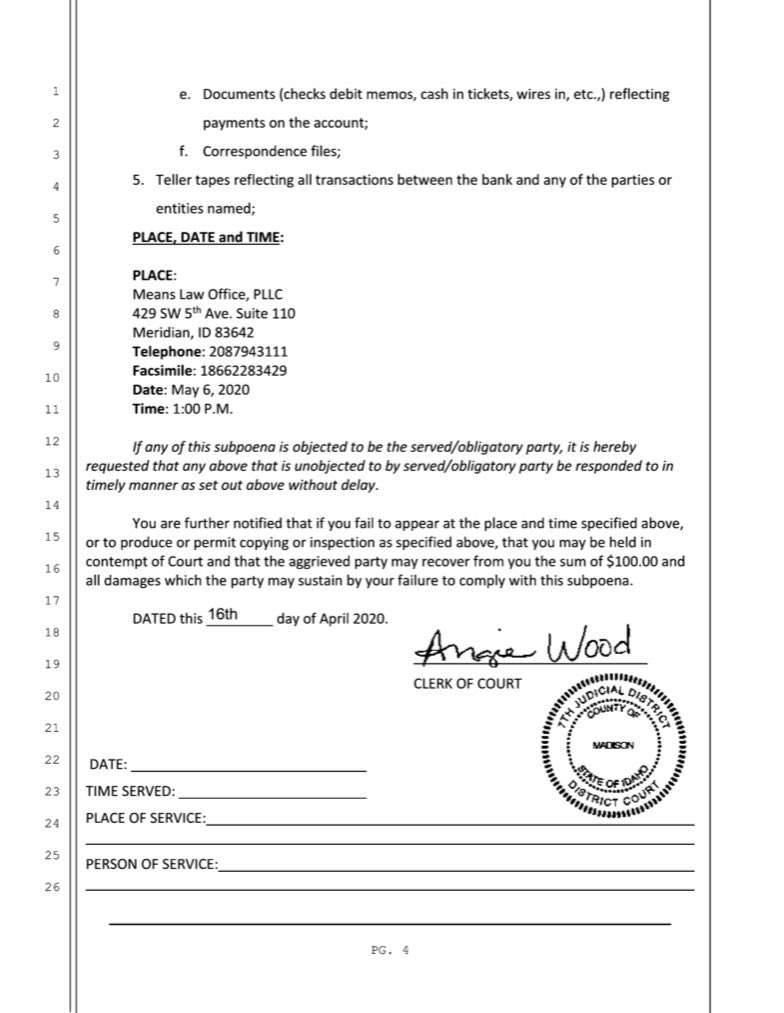 More information has also emerged about Charles Vallow's life insurance policy. On February 26, 2019, Charles asked Banner Life to investigate his 'soon to be ex wife' Lori Vallow for changing the password to his $1M life insurance policy account. He claimed he did not change the PIN number. He stated he wanted 'nothing to go to Lori or any member of her family'.
According to someone Charles spoke to at Banner, the password was changed on 2/20/19. This is less than a month after he tried to have Lori committed to a mental health center for evaluation. He had already filed for divorce and filed a protection order against her.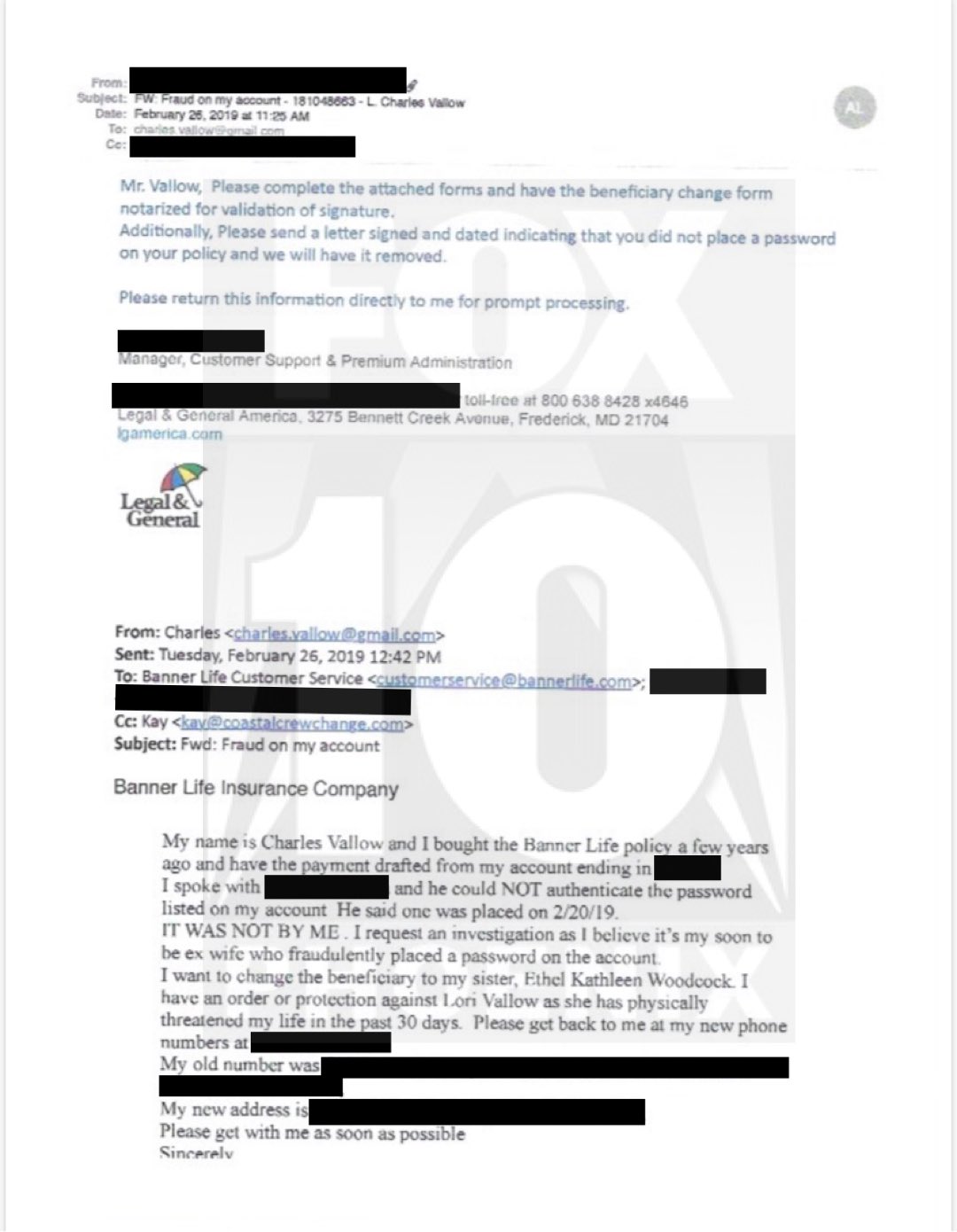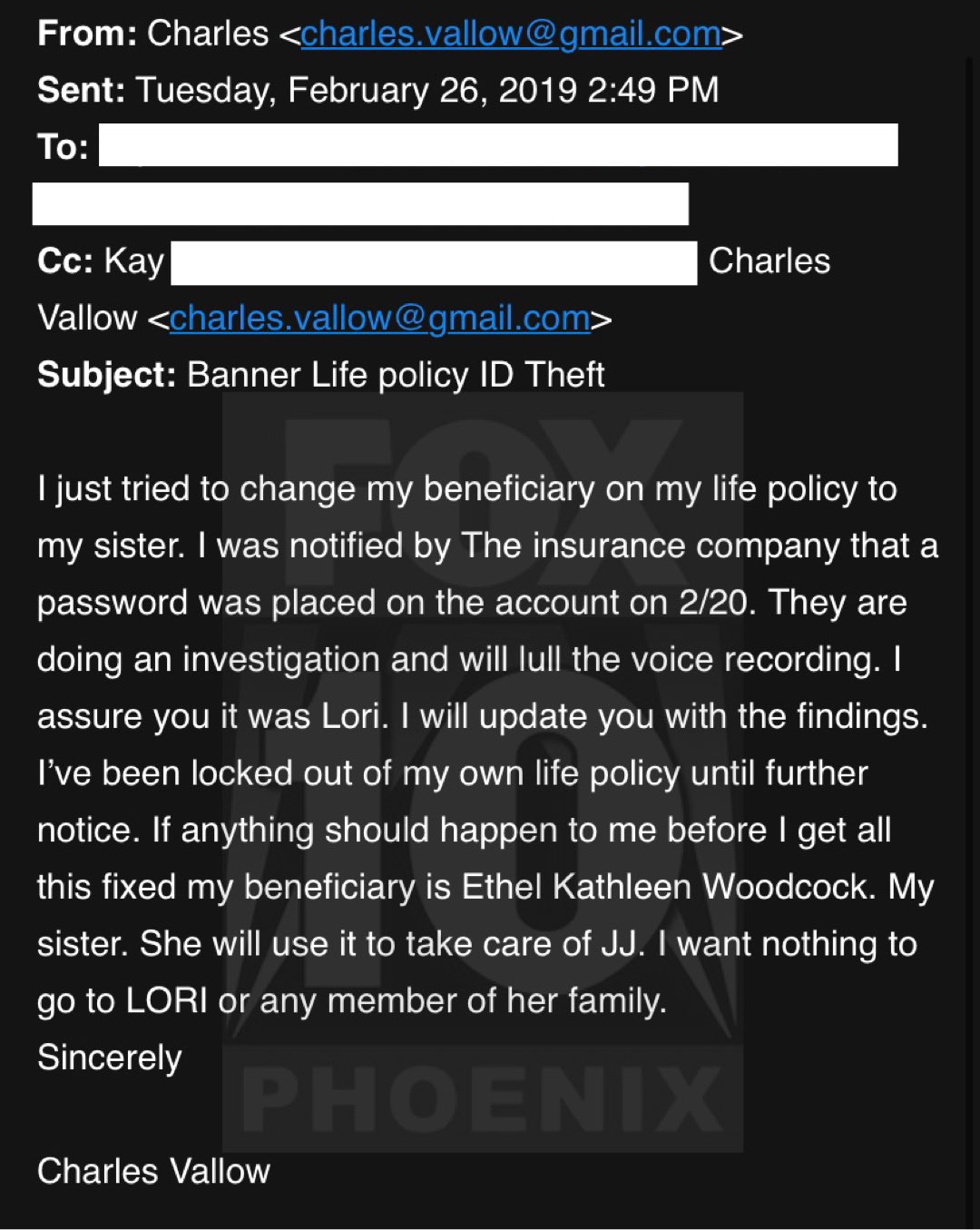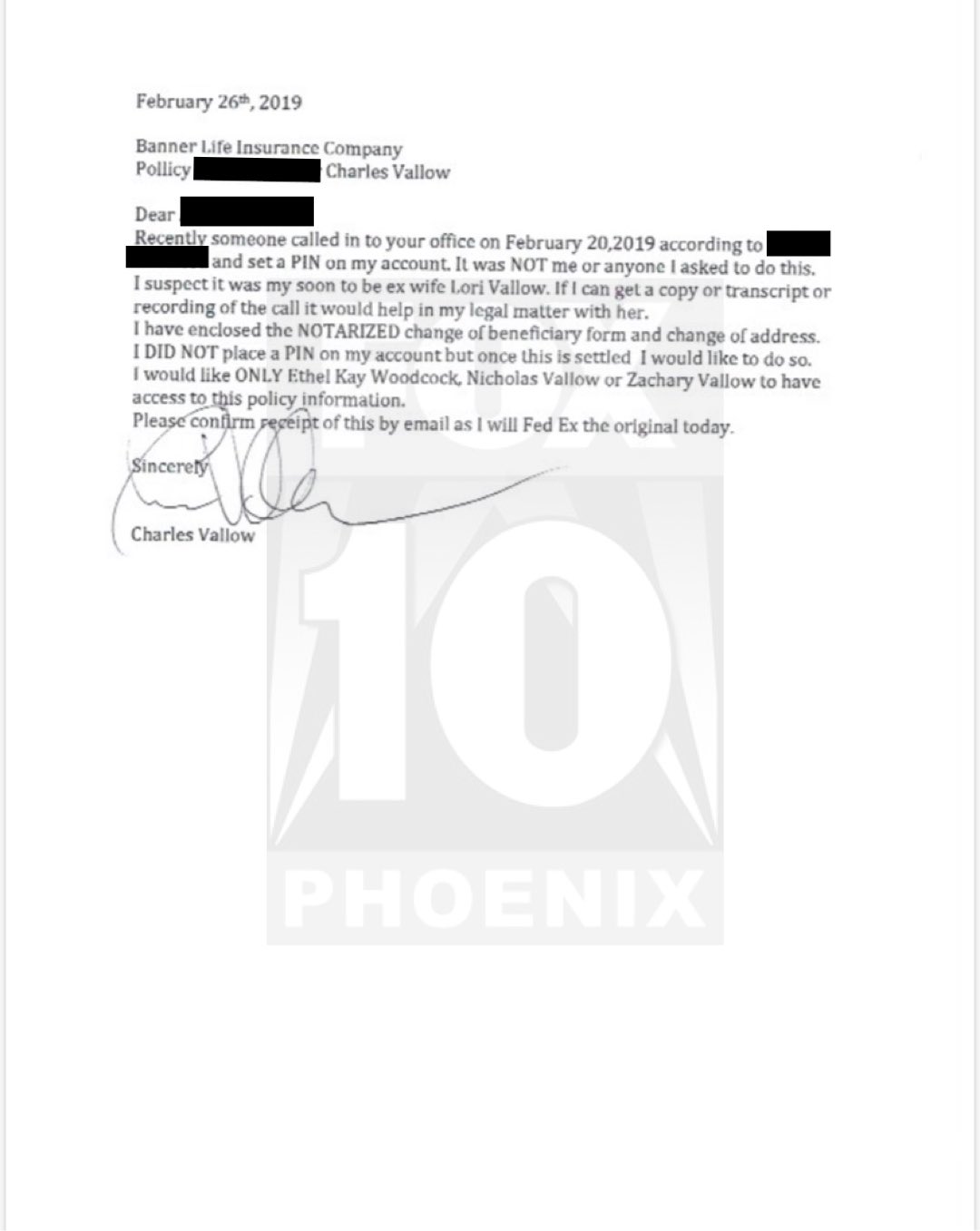 Repeatedly, Charles accused Lori of hacking into the policy account and even asked for any call recording or transcript of how this was done. Nearly five months later, he was shot and killed by Alex Cox, Lori's brother.
On April 21, 2020, Madison County Prosecutor Rob Wood filed a discovery disclosure in response to Mark Means' above requests. According to Justin Lum, The State denies much of the request and lists nearly 50 key witnesses linked to this case of the missing children, JJ Vallow and Tylee Ryan. The list includes family, friends and official with multiple law enforcement agencies.
The communications between law enforcement will not be disclosed as well the names of those contacted by Rexburg PD or Madison County Sheriff's Office. Wood points Means to the police report with probable cause multiple times.
A forensic report of Charles Vallow's cellphone is provided to the defense. The State is also gathering reports on devices connected to Lori Vallow.
Autopsy/toxicology reports on Charles, Alex Cox, Tammy Daybell and Joseph Ryan won't be released to the defense. Woods says they are irrelevant to the case of child desertion. Three of those deaths (Vallow, Cox, Daybell) are still under investigation.
The last response to Means' final request for Charles Vallow's Gmail records and financial documents is being denied, as well as school records pertaining to JJ and Tylee.
"Request is vague, overly broad, unduly burdensome, may include attorney work product."
We have discovered that JJ's biological mother has been making social media posts about the case:
We also found some photos of JJ that we had not seen before:
JJ and his biological father:
In late April, Melani Boudreaux reactivated her Facebook account and she made a post about the situation.
On April 30, Mark Means requested all records, communications and documents regarding Melani Pawlowski, Ian Pawlowski and Brandon Boudreaux.
It includes but is not limited to Adam Cox, Charles Vallow, Alex Cox, Tammy Daybell, Kay Woodcock, Larry Woodcock, Melanie Gibb, Summer Shiflet, Jason Gwilliam, Matt Daybell, Heather Daybell, Jack Daybell, Shelia Daybell, Ruth Mortenson and Detective Hope.
As of April 30, Attorney Sean Barthlolick revealed that he was no longer representing Chad Daybell. Chad will now be represented by Mark Means, the same lawyer that is representing Lori.